DISCOVER TWO UNIQUE COFFEE EXPERIENCES
ORIGINAL SYSTEM

From classic espresso to exceptionally rare coffees

VERTUO SYSTEM

Incomparable Coffee Experiences
PERFECT FOR
TRADITIONAL ESPRESSO LOVERS
Whether you prefer full-bodied or decaffeinated, black coffee or adding milk to make cappuccinos or lattes, Original is the ideal machine for espresso lovers with just the touch of a button.

TRADITIONAL 19-BAR HIGH-PRESSURE EXTRACTION
The 19-bar high-pressure extraction technology assures each coffee is topped with a luxurious crema that preserves the notes and aromas in every cup, keeping them safe until you taste them. Just like a treasure for you to unravel.
3 cup sizes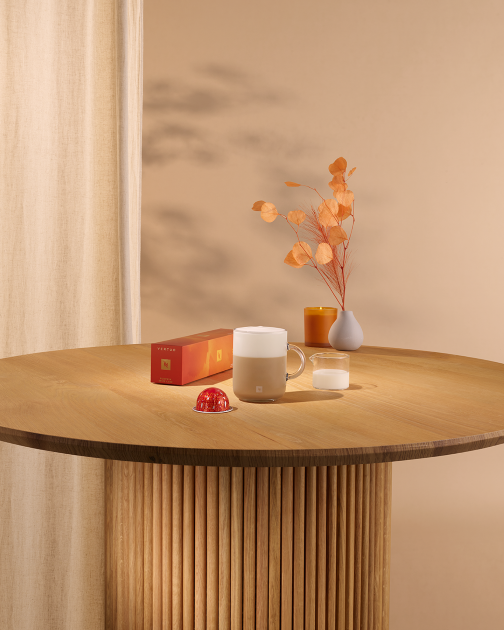 A LARGE SELECTION OF ESPRESSOS
From the roasting Italian traditions in the Ispirazione Italiana range to the different world coffee cultures in World Explorations, the Original range gives you a unique Espresso experience in every cup.
PERFECT FOR
GENEROUS CREMA LOVERS, IN ESPRESSO AND BEYOND
With Vertuo, we put innovative technology at the service of your coffee moments. We keep the tradition of Espressos, but we go even further…

CENTRIFUSION™ INNOVATIVE TECHNOLOGY
Centrifugal force meets water infusion. The machine reads the capsule's barcode to apply the exact rotations (up to 7000 per minute), water and temperature for a cup that's both precise… and delicious.
5 cup sizes






A WIDE CHOICE OF COFFEE IN ALL STYLES
What if you had to choose between an Espresso or a mug of coffee? With Vertuo, you don't have to. Explore new Espressos and Double Espressos, venture into Gran Lungos, Mugs, and discover in each of them a crema like you've never seen before.
EXCEPTIONAL QUALITY COFFEE
26 UNIQUE COFFEE BLENDS
Here is the full range of Vertuo coffees, with all its different cup lengths. Vertuo coffees are available in five lengths, in capsules of three different sizes, because you always deserve the most from every cup, regardless of the mood of the moment. The capsules can be used with a Vertuo coffee machine.
Choose from the wide range of blends and their versatility of preparation, each with a characteristic intensity and aroma. A short Espresso, a velvety Gran Lungo, but also a pleasant cup or a nice generous mug of Alto: you'll want to try them all!
Sustainable choice in every cup
Sustainability is the basis of Nespresso's activities to which a special attention is paid. In the production of Vertuo coffee machines 35% to 50% recycled plastic is used while their packaging is made from 99% other recycled materials.
As you enjoy the different types of Vertuo coffee, remember that all Nespresso coffee capsules are made of aluminium - an infinitely recyclable material that keeps your coffee fresh,  high-quality and delicious.